BY-SAMAIRA GULERIA
The spread of Corona Virus has resulted in World-wide lock down and India too has implemented lock down in all its states for last 02 months. This led to closing of some of the major industries like automobiles, infrastructure, tourism, manufacturing etc. which are biggest stakeholders of organized and unorganized sectors in India. Most of the people working in these sectors are daily wage workers who do not have fixed income or benefits but solely relies on everyday wages. The closure of all these sectors has led to one of the biggest crisis which we will face in future due to – "Great Indian Migration". This article majorly focuses on current migration of laborers, the roots of migration and future ahead for these migrants.
Urbanization in India
Rapid urbanization being pervasive has been a cause of concern for India since decades. The urbanization has picked up paced in recent years due to growing disparity in average incomes of Rural and Urban Indians. The development in rural areas is very slow, even some of the villages lacking the basic infrastructure of Hospitals, High schools and basic amenities leading to rise in migration.
Fast rate of urbanization led to increased need for the growth of new areas for housing, social amenities, commercial and other urban land uses. The lack of clear urban limits led to encroachment of government areas, forests, green belts thereby adversely affecting the environment, increasing man-animal conflicts, depletion of green areas which led to degradation of quality of life in urban areas too.
The Sudden Jerk – Ruralisation
Imagine driving on a Express highway at a speed of 100-120 Km/hr (kind of top speed for most vehicles in India) and you suddenly take a 90-1200 turn, the most possible scenario with Indian rides would be your vehicle will topple damaging yourselves and the vehicle.
On similar grounds, due to shutdown of all the major and minor industries in India the rapid pace of urbanization has now taken a 1800 turn and converted itself into Rapid Ruralisation in a very short span.
Now just imagine suddenly one day, 100 million(still a very low number based on optimism) out of these 250 million start returning homes within a short span of 01-02 months. I just can't calculate the extent of damage which the country is going to bear in coming days.
Fate of Migrant Workers in Past few days
From horrendous Accidents to Starvation to Scorching Indian summers(40-420 C) to Crossing the rivers and list goes on. The humanity has reached its all-time low in this decade and below are few videos and pictures depicting the struggle of these migrants.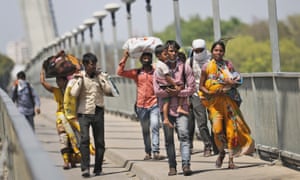 Conclusion
The Govt. need to understand this is a State of Emergency, not a regular budget session where the relief package is announced over a leisure period of 05 days. With every passing day it is a matter of life and death for someone who is on the roads trying to reach their home.
The stimulus package announced by Govt. is full of futuristic goals, but it need to be understood that "If we don't survive today, there will not be a future for most of us."
Govt. should have come up with setting up of community kitchens in various parts of India where the migrant inflow and outflow is maximum. e In my view, what we accomplished in last 02 months has all been reduced to Zero, it's just a matter of time now as India has become a ticking Time-Bomb